The Bridgend Centre has two ranges of walking trails that cover the local area; the Bridgend Heritage Trails and the Bridgend Tree Trails.
We recently carried out a project to renovate these trails and develop new markers and leaflets.
You can get paper versions of the trails containing maps and detailed directions from the Centre and you can also download these from each individual walk page on this website.
Each trail is on a paper leaflet with beautiful illustrations and pencil drawings of the local area. Written descriptions include reminiscences by local people about the sights and waypoints that walkers will see along the walk. Printed versions of the leaflet are available at the Bridgend Centre and other outlets around Bollington and further afield.
Thank you so much to our funders for supporting this project including South West Peak Partnership, Peak District National Park, Cheshire East Council and the Hobson Trust.
The eight trails cover the areas below. Hover over each area to see the route. Click for a more detailed map, more information and the leaflets and quizzes for you to download. Large print versions are available.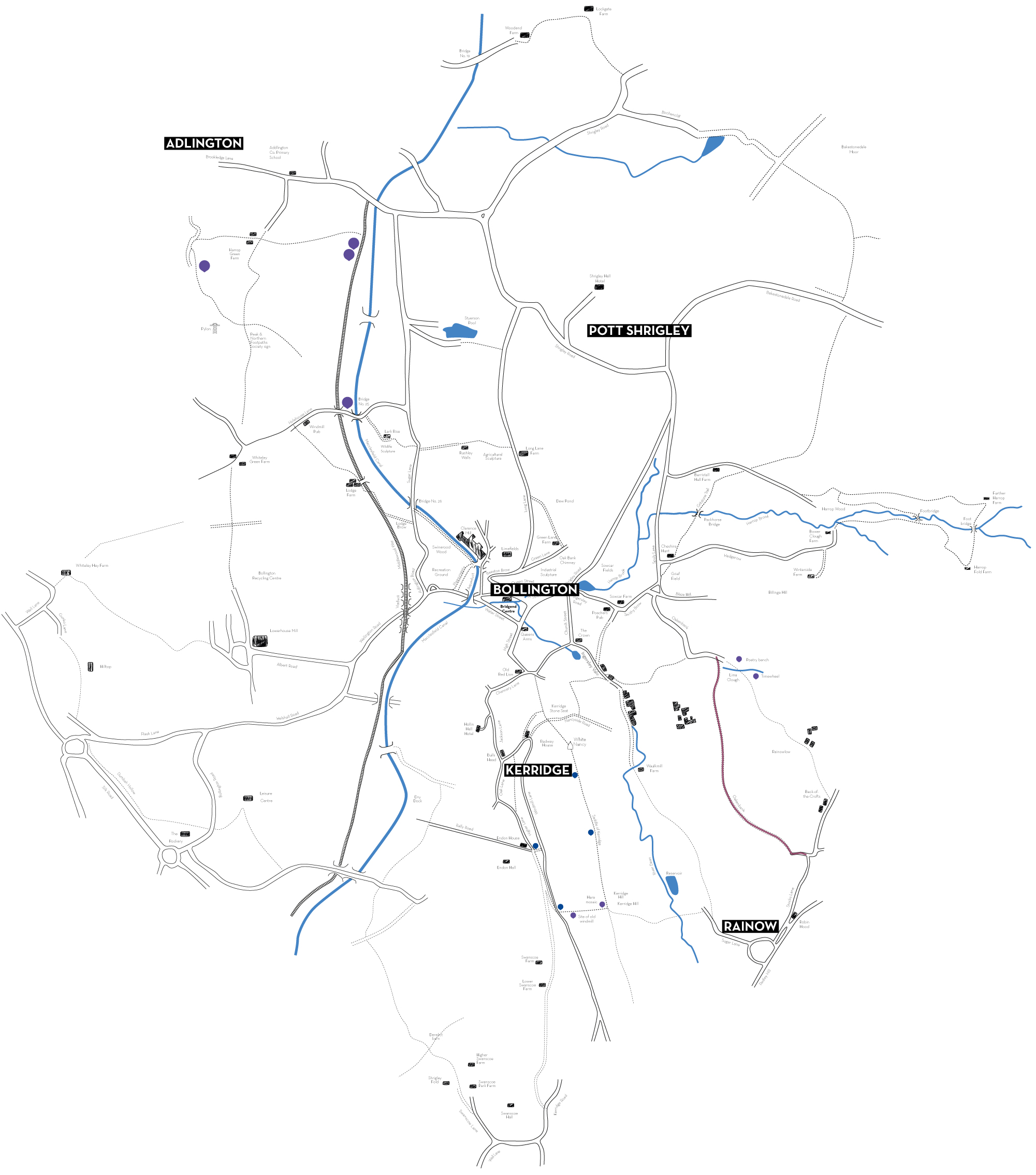 Bridgend Heritage Trail No 1 - Bee Happy
3.25 miles.
Walk to Whiteley Green through Bollington's unique landscape. Discover intriguing places and half-forgotten artefacts including traces of ancient beekeeping.
Bridgend Heritage Trail 2 - Woods and Wildflowers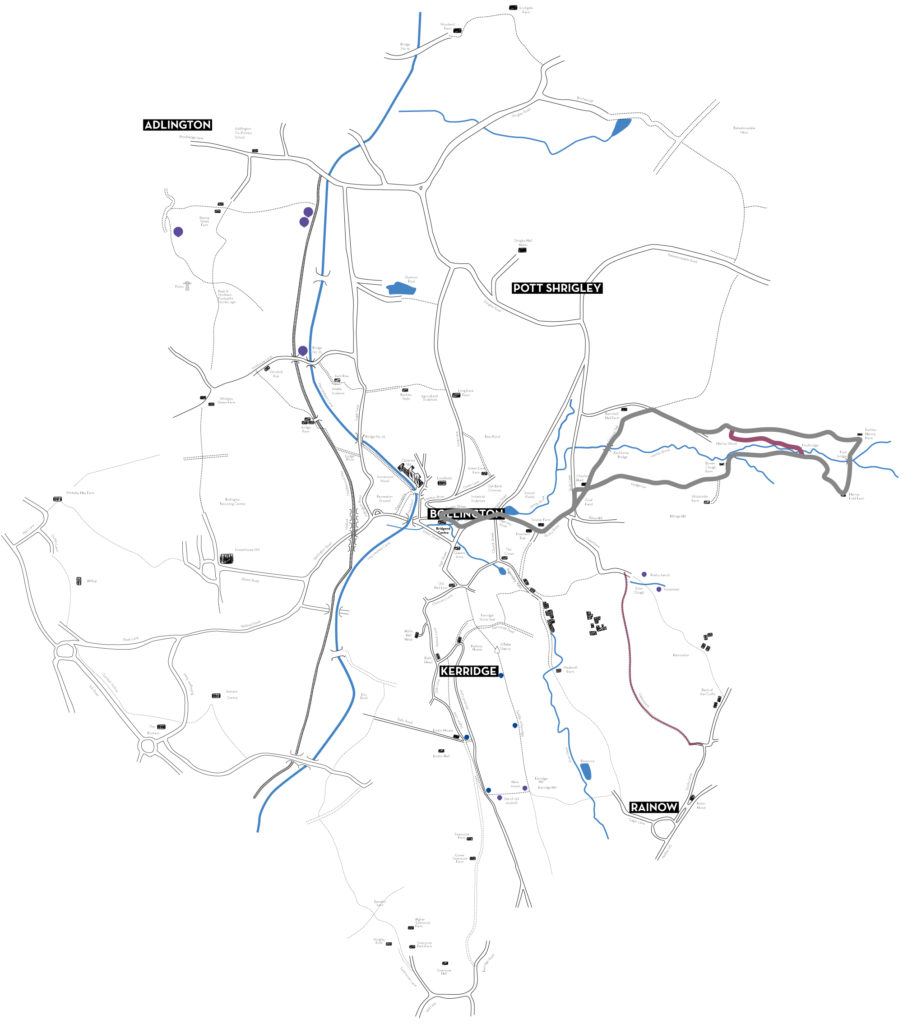 5 miles
Follow the enchanting Harrop Brook through woodland whose tranquil charm and abundant wildlife hides a colourful past.
Bridgend Heritage Trail 3 - Written in Stone
3 miles
Head up to the spectacular viewpoint of Kerridge Ridge before winding your way through Bollington's network of paved and cobbled paths to explore how stone and quarrying have shaped the town.
Bridgend Heritage Trail 4 - Revolving in Time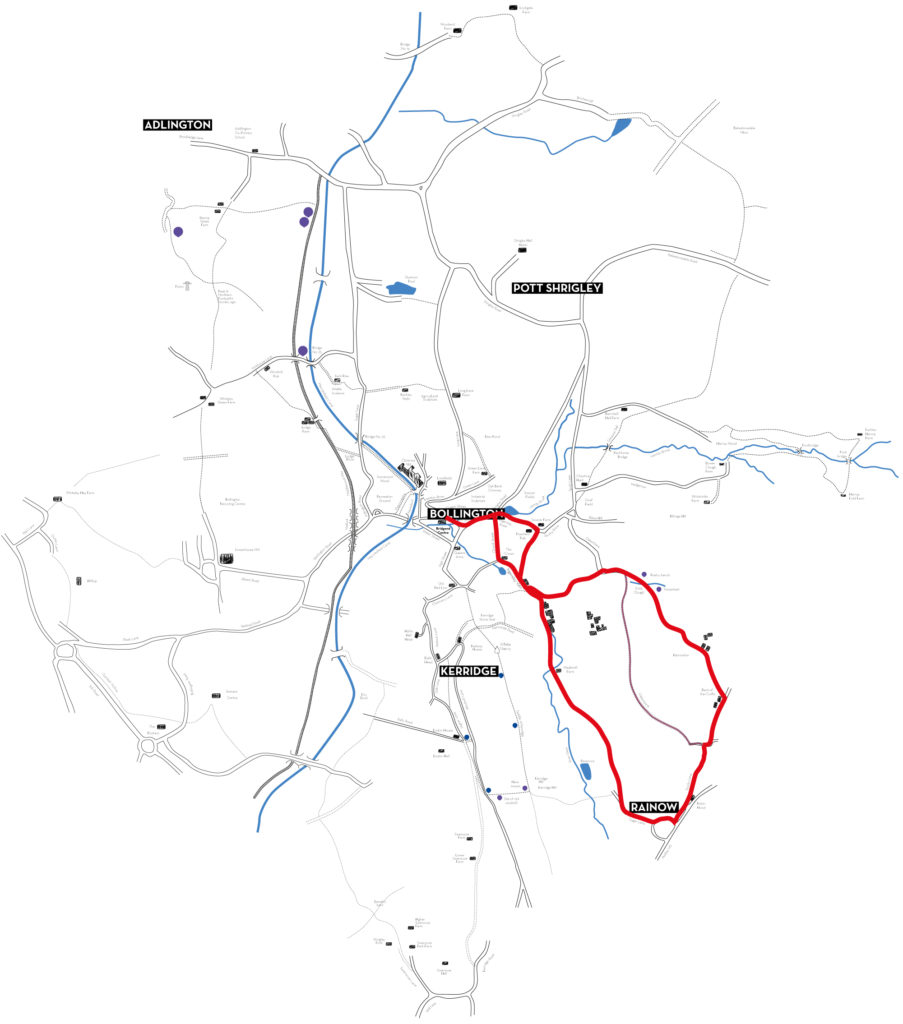 4.5 miles
Follow the River Dean to Rainow
Bridgend Heritage Trail 5 - Digging through the Past
6.5 miles
From town to farm and from quarry to canal this undulating walk takes you through the valleys and moors north of Bollington.
Bridgend Heritage Trail 6 - As the Crow Flies
5.5 miles
A straight out and back route to Higher Hurdsfield.
Heritage Trail 7 - Travelling in Time
5.5 miles
Heading north from Bollington this largely flat walk travels to Adlington and returning via Whiteley Green
Bridgend Heritage Trail 8 - Upstairs, Downstairs
6 miles
Heading west from Bollington, this largely flat walk meanders through farmland to Butley Ash and back
You can also download the document below for more information on how the Project was carried out.